Nativity Scenes - Kenya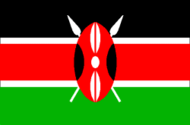 Only nativity scenes from Kenya are shown on this page. Fair Trade Kenya Africa nativity scenes. Kenya is located in east Africa and is bordered by Ethiopia, Somalia, South Sudan, Tanzania, Uganda and the Indian Ocean. Kenya is believed to be one of the oldest known residences for humans. The national tree of Kenya is possibly the acacia. The national bird is the lilac-breasted roller.
Our Nativity scenes from Kenya are acquired through fair trade organizations that put people first, not profits.