We love the celebration of the nativity scene and are just thrilled when we receive emails with nativity photos. If you'd like to share your nativity display with the YonderStar community - please send us photos along with any information you'd like us to include!
We'll begin our showcase with just a handful, and rotate the display every so often. Please visit this page on a regular basis if you're thinking about a collection to begin, or to give, or are already a Nativity lover looking for new display ideas.

You'll find this outdoor nativity display in Olympia, Washington.
This display contains pieces from the YonderStar 27" scale Full Color Joseph's Studio Outdoor Nativity and an electrified stable on casters for easy display and assembly / disassembly.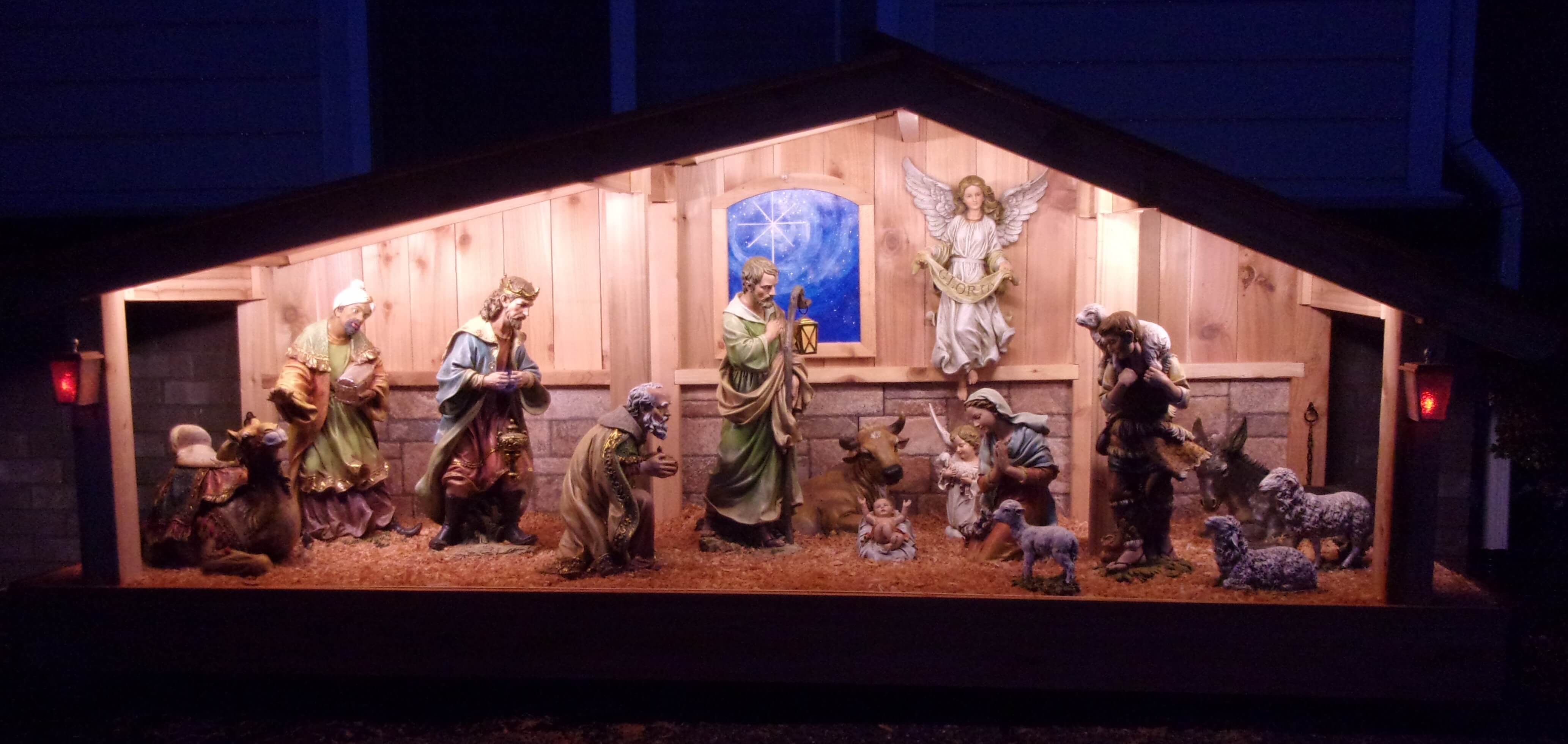 Here is what our friends who put together this remarkable structure have to say about it:
"Here are some pics of our Nativity we created. The creche is made from western red cedar and ceramic floor tiles. The structure is assembled using joinery and very little hardware so it can be disassembled and reassembled each year. It is mounted on casters so it can be wheeled into place. I used LED lighting and the little lanterns on the front are flickering candle bulbs. The lighting is photostatically controlled to come on at dusk and extinguish at dawn. Our Nativity has been a real inspiration not only to us, but to our neighbors as well. Merry Christmas."

You'll find this nativity display in New Jersey.
A nativity putz is a traditional Christmas village display and is traditionally found in a place of prominence in a home - often times on a mantle or under a Christmas tree. Using a wooden hutch for the village display adds a magical quality to the scene, and is a great use of space! This display uses Fontanini nativity figures, and a lot of special touches to make it just right.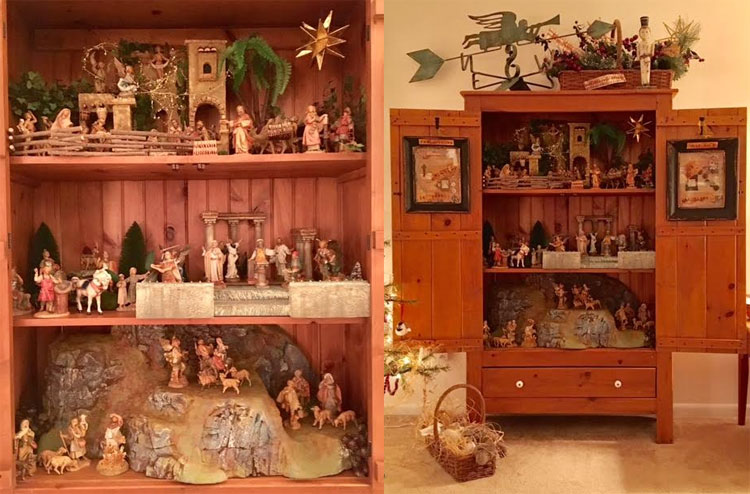 Here is what our friends who created this terrific display have to say about it:
"Thank you for helping us make our annul "Nativity Putz" a joy to share with family and friends! I made the "house" and the "temple" from styrofoam packing materials and wood scraps. In recent years we've started collections for our two daughters and their families and our youth pastor and his family. Have a Blessed Christmas. Some years, we use soft colors of netting fabric for the "sky" on each level, with small lights behind the netting. Several years ago we had four levels, with the top level representing "heaven" with the risen Christ in the company of numerous angels. We enjoy it so. Thank you again, for your help over the years; allowing us to add to our collection and purchase pieces for our family. "

You'll find this nativity display in ILLINOIS.
Hand-carved and hand-painted in the Val Gardena region of Italy, LEPI Nativity scenes are works of art and family heirlooms! These gorgeous Italian nativity pieces are an excellent gift idea for a memorable wedding, anniversary, or birthday gift. Many of our customers purchase one piece each year as a recurring gift for a special someone - or for themselves! Each piece of the exquisite Kastlunger wooden nativity scene has been hand-carved and hand-painted in the LEPI workshops in Italy after the original nativity models made by the master woodcarver Harald Kastlunger.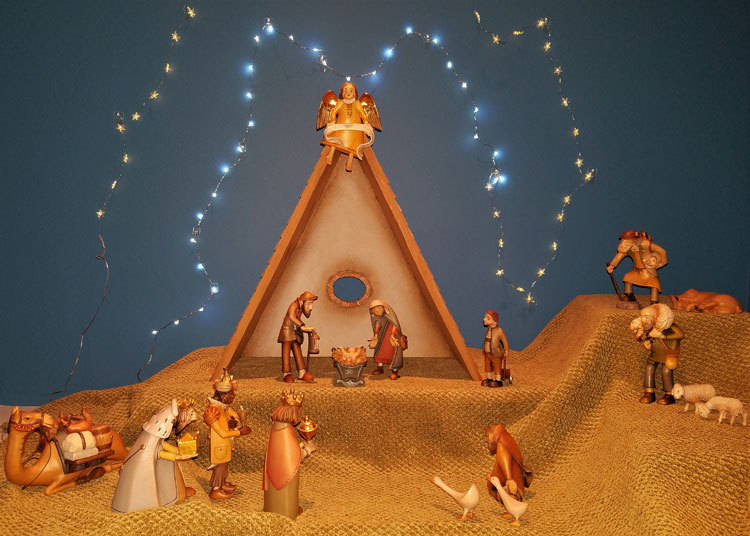 Here is what our friends who created this terrific display have to say about it:
"I saw this
Nativity
when I was in Rome in 2010. I fell in love at first site. I am fortunate that my husband has been buying me one or two pieces each year since then. It will take a lifetime to collect them all, but I hope to be able to do it. I love this
Nativity
!! We recently moved into a house with a niche on the 2nd floor landing. This
nativity
sits there all year long. I added the lights from Pier One (they have a remote control as well!) and I think it looks amazing."

You'll find this nativity display in CHULA VISTA, CA.
What a wonderful collection from "Around the World"!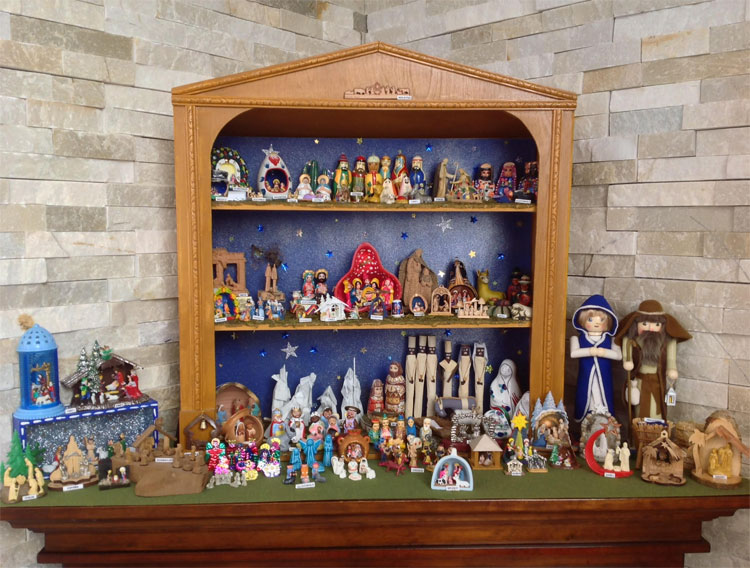 You'll find this nativity display in FLYNN, TX.
Using a blue and white color palette for porcelain has a long history. As far back as the 9th century, artisans in China were using blue and white for china and porcelain. Later in the 16th century in the Delft region of The Netherlands, the blue and white color scheme was used for the classic blue and white Delft pottery. This lovely porcelain Nativity is 7" scale.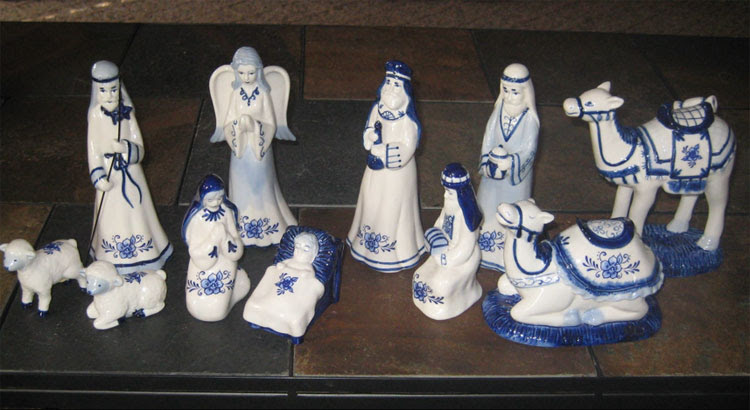 Here is what our friends who display this lovely blue and white nativity have to say about it:
"I love this Nativity set so much! I put it on my facebook page ever year."

You'll find this nativity display in SAFETY HARBOR, FL.
Joseph's Studio off-white / eggshell 39" Outdoor Nativity, weighty enough that they resist blowing over, but are not too heavy to lift and move around. A lovely Star of Bethlehem and additional accent lighting makes this an eye-catching display!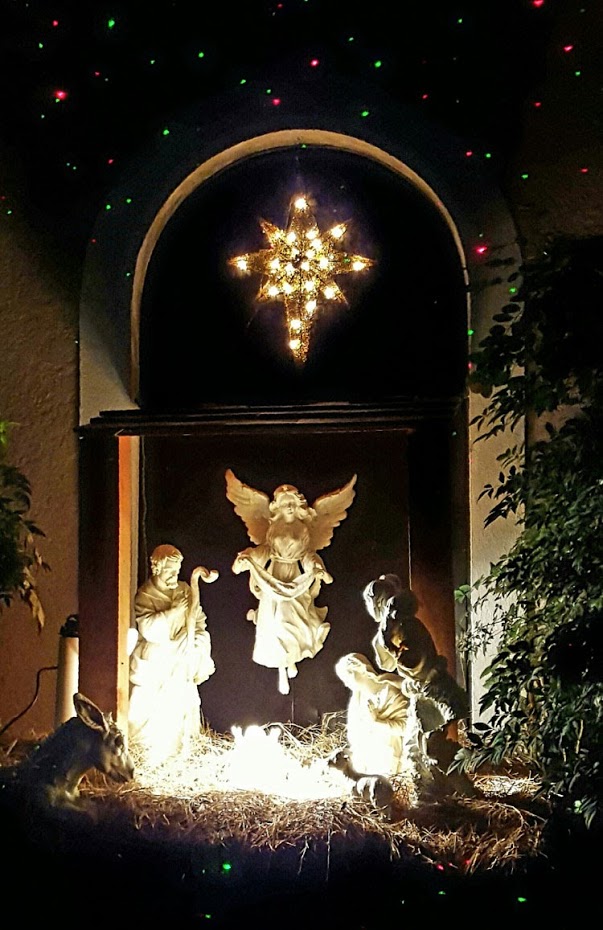 Save
Save