Be Inspired
We love the celebration of the nativity scene and are just thrilled when we receive emails with nativity photos. If you'd like to share your nativity display with the YonderStar community - please send us photos along with any information you'd like us to include! And please visit this page on a regular basis if you're thinking about a collection to begin, or to give, or are already a Nativity lover looking for new display ideas - we have a LOT of very clever and talented customers with wonderful Nativity scenes to share.

This rootin' tootin' Nativity has a home in the great state of TEXAS.
(Sadly, the UnBridled Wonder nativity is retired, and is no longer available.)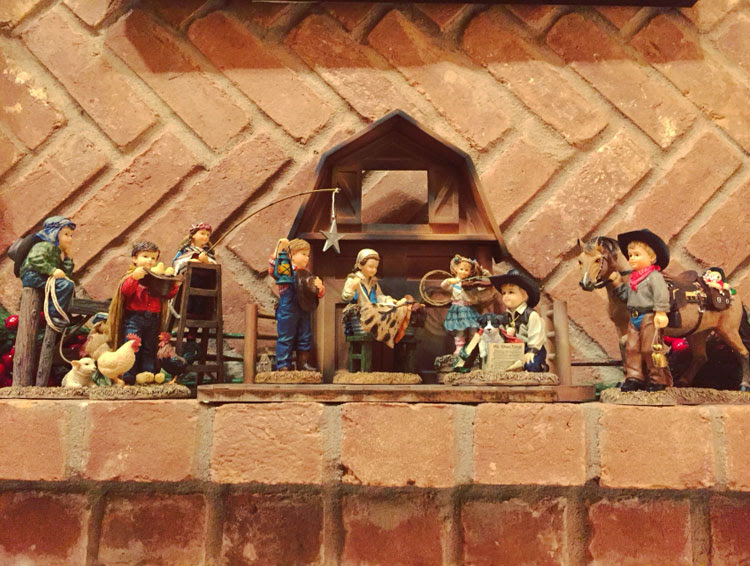 Our friend Bruce Noblett says:
Here is your Texas Nativity proudly displayed at my niece's home in Texas. She loves her collection! Thanks and Merry Christmas.

Here's a lovely OUTDOOR NATIVITY Scene featuring our 36" Lighted Outdoor Nativity.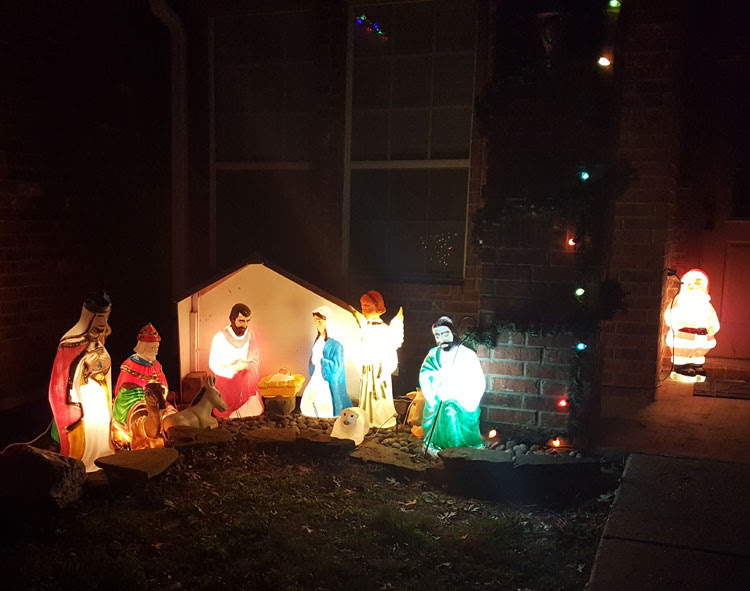 Here is what the folks who created this terrific display have to say about it:
The nativity originally was my late in-laws' from the late 70's. Extra pieces were added over the years. I purchased a new baby Jesus because the original one had been stolen a few years back. We had been using an old baby doll. However it wasn't the same since it was not lit. This year was amazing as we were able to see everything from the street. I don't know if I sent this picture or not but this is what it looks like all lit up. Thank you again for helping return our set to its original glory.

Another imaginative display using LEPI Kastlunger figures from ITALY.
Hand-carved and hand-painted in the Val Gardena region of Italy, LEPI Nativity scenes are works of art and family heirlooms! These gorgeous Italian nativity pieces are an excellent gift idea for a memorable wedding, anniversary, or birthday gift. Many of our customers purchase one piece each year as a recurring gift for a special someone - or for themselves! Each piece of the exquisite Kastlunger wooden nativity scene has been hand-carved and hand-painted in the LEPI workshops in Italy after the original nativity models made by the master woodcarver Harald Kastlunger.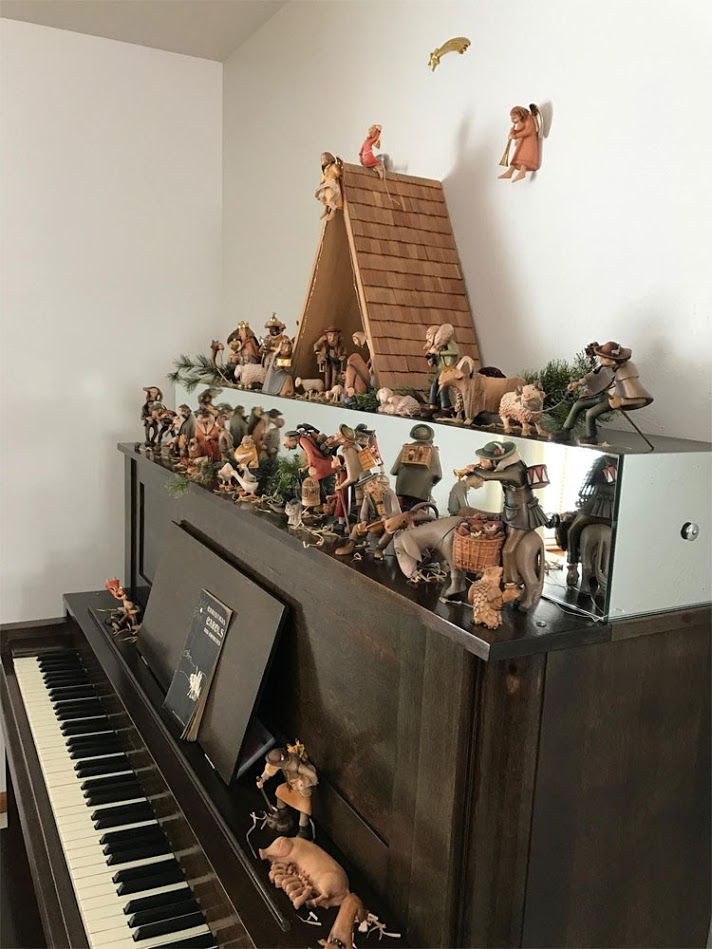 Our friend Dana Echter says:
I love this so much....I put it up on the night of Thanksgiving and leave it up until Epiphany! I love having this displayed on the piano as the mirror enables you to see the beautiful detail of the carving all the way around the pieces. I am honored to share it with you.

This lovely display features beautifully designed figures is a style reminiscent of HENNA ART.
Thanks for sharing Karen S.!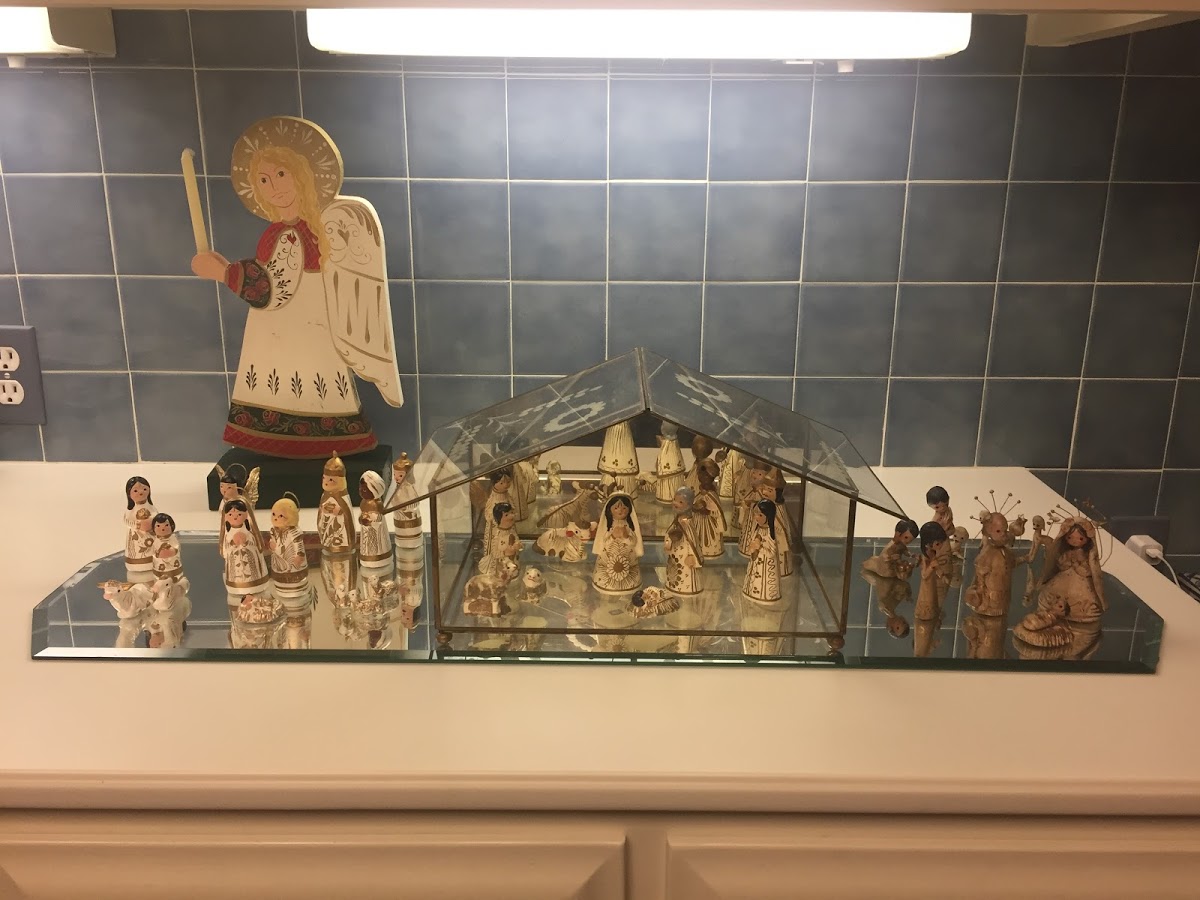 We have so very many customers who appreciate and collect wonderful and so very unique FAIR TRADE nativities.
The Fair Trade initiative supports farmers and craftspeople in developing countries who are socially and economically marginalized, to ensure good wages, safe working conditions, environmental responsibility, and economic growth. Fair Trade -- putting people first, not profits.
This display includes some lovely hand-carved Nativity pieces from Rwanda, Africa. The figures are finished with a combination of liquid wood stain and locally available shoe polish. Another contribution from Karen S.

The classic beauty of FONTANINI Nativities from Italy is appreciated around the world.
Fontanini Nativity figures are made in Italy and are richly detailed and hand-painted for authenticity and enduring beauty. Fontanini Nativity figures are hand-crafted from a specially formatted polymer that is resistant to chipping and breaking.
From 3.5" to 50" scale, there is certain to be a FONTANINI Nativity for every collector. Mr. Robert J. Harris has chosen the 5" Fontanini collection for his display.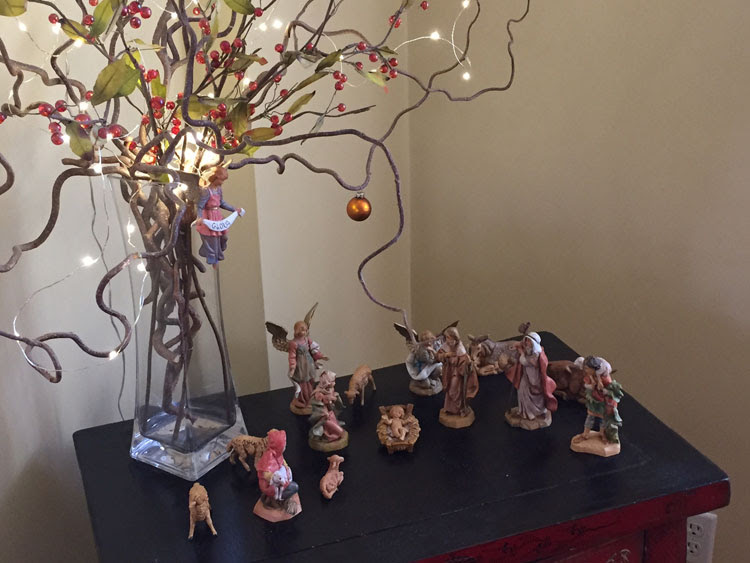 Save
Save