Nativity Scenes - Italy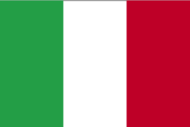 Italy is located in Europe and is bordered by Austria, France, Liechtenstein, Monaco, Slovenia, Switzerland and the Mediterranean Sea. It is believed the land that comprises Italy was occupied by the Neanderthals as far back as 200,000 years ago. The national trees of Italy are the olive and the oak. The national bird is the Italian sparrow.
All Nativity scenes found here are hand carved and hand painted in Italy, except the Fontanini Collection which is hand crafted and hand painted in Italy.