Nativity Scenes - Haiti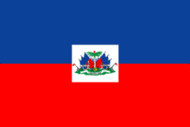 The Republic of Haiti is an island nation in the Caribbean Sea and bordered by the Dominican Republic. The national tree of Haiti is the royal palm. The national bird is the Hispaniolan trogan. The island that now comprises Haiti and the Dominica Republic was once populated by a people known as the Taíno. They are now an extinct people.
The Republic of Haiti produces quite a bit of nativity scenes, mostly made of tin or river stone. These Haitian nativity sets were all imported through fair trade organizations that put people first, not profits.